Because after our recent trip to the Happiest Place on Earth, aka Disneyland, I fully believe in the wonder of childhood simplicity. Disneyland exudes such an overwhelming aura of absolute happiness that I have actually considered quitting my job and applying to be a Princess. Perhaps it was the contagious energy of our adorable nieces, but either way we spent the day (from the wee hour the park opened until they literally kicked us out) running around like we were all 9 years old again. It was glorious!
In honor of boyfriend's sissy's birthday we decided to take a "personal" day, i.e. play hooky, from work to embark on an all out Disney adventure. Armed with pink donut boxes and an obnoxious amount of Red Bull we set out before sunrise toward our awaiting playground, Anaheim!
Disneyland at Christmas time is especially magical, what with the lights and decorations. As if it weren't surreal enough already, why not add a little fake snow and a couple extra holiday parades to take it up a notch.
We admired what we deemed the world's biggest Christmas tree, checked out nearly every ride, shared a churro (I know, it's becoming a habit), climbed Tarzan's tree house, lunched on clam chowder, strategized our fast passes, and then made our way to California Adventure for the Electrical Light Parade, which turned out to be quite the trip down memory lane. From the music to the floats I reminisced back to the annual trips we took to Disneyland every single year growing up.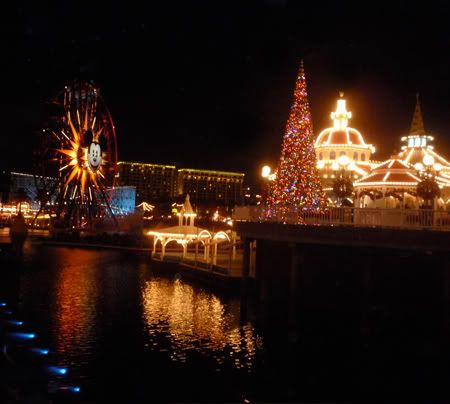 Exhausted and freezing we crawled back to our car on the second floor of Mickey and Friends parking lot, happy and contented with a day well spent.