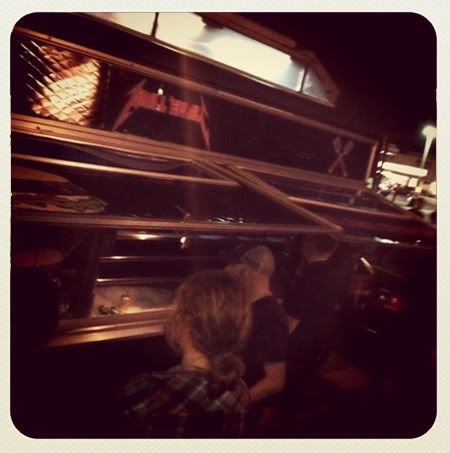 Ever since the culmination of The Great Food Truck Race, resulting in a win for Grill em' All, we have anxiously been stalking them on twitter. Waiting patiently for that famous black truck to make its way to the San Fernando Valley so that we could partake in their famous fare.
Well last night was the night. As I peeked at twitter on my way home from work I noticed @Grillemall said NoHo tonight! Meaning they would be approximately close enough to go find. Excitement ensued!

After a fairly hefty wait, I'm talking like 40 minutes for a food truck burger, we approached the window to order practically drooling in anticiaption. We ordered the Behemoth burger, which let me explain to you, is two grilled cheeses acting as the bun to one giant beef patty. It was DELICIOUS…and yes I sort of wanted to drink a small pond after all that sodium consumption, but I assure you it was well worth it.  Also, let me clarify this is not a particularly diet friendly food truck, so don't be alarmed by the amount of beer, bacon, salt, and cheese you may or may not be compelled to consume.

Behemoth Burger- grilled cheese bun, smoked cheddar, applewood smoked bacon, beer soaked onions.
Samoa Joe Burger-cheddar, beer soaked onions (apparently this is a key element, as they are on pretty much everything!), bbq sauce, pineapple
Double Dipped Frites- i.e. fresh cut french fries tossed in truffle oil with chipotle ketchup and roasted garlic aioli
Yum!